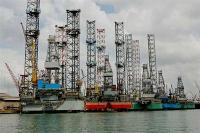 Keppel FELS Limited (Keppel FELS), a wholly owned subsidiary of Keppel Offshore & Marine (Keppel O&M), has secured a contract to build a repeat KFELS Super A Class harsh environment jackup rig from a subsidiary of Ensco plc for around US$265 million.
Scheduled for delivery in 2Q 2016, it will be the fourth ENSCO 120 Series jackup rig that Ensco has ordered from Keppel FELS since 2011. As part of the contract, Ensco has an option to order another similar rig.
Mr Tong Chong Heong, Chief Executive Officer of Keppel O&M, said, "We are pleased that Ensco, which has the largest fleet of premium jackup rigs in the world, continues to expand its fleet of harsh environment jackup rigs with Keppel FELS. It marks the strength of our reputation for providing proven rigs that are the best in class.
"Customers come to us because we have the experience and expertise to come up with solutions that can meet their needs. We are able to stay ahead of the competition because we have the R&D resource and execution capabilities to deliver customised and differentiated rig designs that are high performance, cost efficient and reliable. We are encouraged that established drilling contractors such as Ensco continue to value rigs of quality and the Keppel promise of on-schedule project execution."