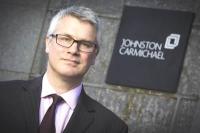 Johnston Carmichael, Scotland's largest independent accountancy and business advisory firm, is to enhance its integrated employment solutions offering with the strategic appointment of Richard Britten.
Richard, a seasoned tax and national insurance professional, has accumulated more than 20 years' experience in international tax and employment taxation while working with firms including Arthur Andersen and Deloitte. Most recently, he held the role of tax partner at Aberdeen-based Anderson Anderson & Brown (A2B).
Joining Johnston Carmichael's Aberdeen office as tax director, Richard will use his first-hand experience to build Johnston Carmichael's employer solutions practice for companies with internationally mobile employees. In particular, he will focus on translating technical challenges into practically led solutions, through a comprehensive suite of employer solutions offerings.