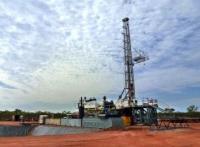 Key Petroleum (Australia) Pty Ltd, a wholly owned subsidiary of Key Petroleum Limited, says that earthwork operations and rig mobilisation has begun at the Dunnart-2 wellsite.
During the week Drilling Contractors of Australia (DCA) commenced mobilising components of the DCA Rig 7 and equipment including cranes, platforms and ramps. A laydown area for the mobilisation of further DCA Rig 7 equipment and trucks will be constructed this week.
The cellar well has been installed and the construction of a flare pit and sump have been completed.