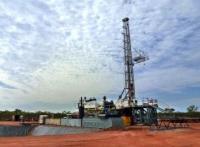 Key Petroleum (Australia) Pty Ltd, a wholly owned subsidiary of Key Petroleum Limited and Operator of EP437, is pleased to announce that all equipment has now arrived at the Dunnart-2 site and BOP testing has been completed. As at 18:00 yesterday the DCA Rig 6 rig crew were rigging up the flowline from the mud tank to the wellhead in preparation to run in hole to commence completions operations later today, 2 June 2015.
Having arrived on site over the weekend, Key Managing Director, Kane Marshall, oversaw the BOP pressure testing and continues to supervise preparations for the completion and testing program. The Operator will commence running in hole with a casing scraper on 3 ½' tubing prior to running the production packer and tubing string as part of the completion operations prior to the flow testing operation. Flow back tanks rigged up to a manifold in conjunction with the flare line have now also been installed.
Conditioning of the hole and completion operations are expected to take place over the next few days prior to commencement of the testing phase.