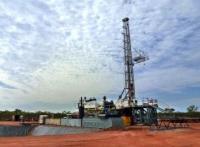 Key Petroleum provided an update in relation to planned testing operations at Dunnart-2 in Exploration Permit EP437, Perth Basin, Western Australia.
All required approvals have now been granted by the Department of Mines and Petroleum to the Operator to undertake completion and testing operations at Dunnart-2 and all long lead items including pup joints and tubulars, wellhead equipment including, xmas tree, tubing hanger, gauges and valves are in Perth ready to be mobilized to the Dunnart-2 location.
DCA Rig #6 is currently in the DCA yard in Perth and Key personnel will inspect the rig later this week before mobilizing the rig to the Dunnart-2 location at some stage during the next three weeks. Camp facilities have been setup and completed south of Dongara at Key's operations base and onsite office and generator power facilities will shortly be mobilized from the operations base.