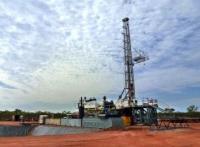 Key Petroleum (Australia) Pty Ltd, a wholly owned subsidiary of Key Petroleum Limited and Operator, is pleased to provide an update in relation to planned testing operations at Dunnart-2 in Exploration Permit EP437, Perth Basin, Western Australia.
DCA Rig #6 is currently in the DCA yard in Perth completing upgrades subsequent to third party rig inspection findings at the direction of Key. The rig is expected to be mobilised to site during the week commencing 18 May 2015.
In accordance with the Land Access Agreement, formal notification of Key's intention to commence operations has been issued to the Land Owner and pressure testing of the completion equipment has been carried out by Halliburton, this equipment will be also be mobilised during the week commencing 18 May 2015.