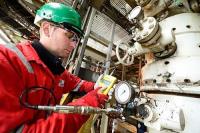 SIMMONS EDECO, supplier of wellhead and valve maintenance and onshore drilling services to the global oil and gas industry, has announced that it has been awarded a multi-million pound contract by a major North Sea oil and gas operator.
The recent award means that SIMMONS EDECO will continue to provide wellhead and valve maintenance services for all of the operator's assets in the North Sea, where it has been working on behalf of the company since 2003.
"By working with this valued customer over the past 13 years, we have developed a very positive working relationship, and a thorough understanding of their operations in the North Sea," says Gavin Sherwood, Business Development Manager for SIMMONS EDECO. "As a result, we are able to respond immediately when unforeseen challenges arise, and to provide them with innovative, cost-effective solutions to meet their asset integrity management needs. It is very rewarding that the company continues to put its faith in SIMMONS EDECO by awarding this key contract."
In addition to maintaining wellheads, SIMMONS EDECO will deliver onshore repair and refurbishment services, equipment management and supply, and bespoke engineering solutions. To ensure integrity of all production valves, the company will also continue to operate its ongoing programme of valve integrity testing and maintenance.
To fulfil the contract, SIMMONS EDECO will use its full suite of specialist wellhead and valve maintenance equipment. Central to the range are its custom-designed "flush and grease" pumps that SIMMONS EDECO uses to service production and wellhead valves. With an operating capacity of up to 15,000 psi and the ability to carry out pressure tests, these pumps perform safely and reliably in the harshest environments. In terms of safety and impact on the environment, they are a dramatic improvement over the traditional grease pumps that are the current industry standard.
The 2-year contract, which features three one-year options to renew, is being supported by SIMMONS EDECO from its European base of operations in Great Yarmouth, England.