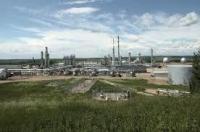 Keyera Corp. announced a 50-50 joint venture with Kinder Morgan, Inc. to build the Base Line Terminal, an above ground crude oil storage terminal near Edmonton, Alberta.
The project is underpinned by several take-or-pay agreements ranging up to 10 years in length with creditworthy customers. Based on current capital estimates, Keyera's share of costs to construct the Terminal is estimated to be approximately CDN$330 million, excluding capitalized interest.
The Terminal is expected to be commissioned in phases, with the first tanks scheduled to be commissioned in the second half of 2017, based on the most recent construction schedule.
The Terminal will be built on undeveloped land at Keyera's Alberta EnviroFuels site. Initially, 12 tanks will be constructed to provide customers with 4.8 million barrels of storage capacity.