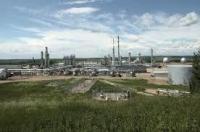 Keyera Corp. has appointed Ms. Janet Woodruff to its Board of Directors effective immediately.
Ms. Woodruff has over 30 years of experience in the energy and transportation sectors. Most recently, she served as acting Chief Executive Officer of Transportation Investment Corporation, a B.C. Crown Corporation, and prior to that was Vice President and Special Advisor at B.C. Hydro. Ms. Woodruff has also held senior executive positions at B.C. Transmission Corporation and Westcoast Energy Group. Ms. Woodruff currently serves on the boards and audit committees of Capstone Infrastructure Corporation, FortisBC Inc. and Altus Group Limited.
Ms. Woodruff is a member of the Institute of Corporate Directors, holding the ICD.D designation, and is a Fellow Chartered Accountant of British Columbia. She earned her Honours Bachelor of Science from the University of Western Ontario and her Master of Business Administration degree from York University.
'Janet will be a valuable addition to the Board, given her experience as a corporate director and knowledge of the energy and transportation industries,' said Jim Bertram, Executive Chair of Keyera's Board of Directors. 'We welcome her to the Keyera team and look forward to her guidance and contributions.'