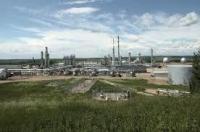 Keyera Corp. is proceeding with an expansion at its NGL fractionation and storage facility in Fort Saskatchewan (KFS). The project will involve more than doubling the facility's existing C3+ fractionation capacity from 30,000 barrels per day to 65,000 barrels per day.
In conjunction with the fractionator, the project will include the construction of new product receipt facilities, operational storage and pipeline interconnections. The estimated total gross cost for the project is approximately $220 million. Detailed engineering work is currently underway and Keyera is targeting completion in the first quarter of 2016.
"We are pleased to be proceeding with this expansion at KFS," said David Smith, President and Chief Operating Officer of Keyera. "This project will enhance our integrated service offering in the Fort Saskatchewan area, allowing our customers to turn their NGL production into cash flow."