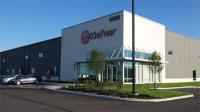 Kiefner and Associates has moved to a new location in Columbus, Ohio in order to better serve both the industry and its clients.
The new facility, offers 40,000 square feet of purpose built office, laboratory and training space and is the first time the company has had all three within one building.
Complete with a new laboratory, the testing facility spans over 20,000 square feet to accommodate an increased demand for material testing and failure analyses.
The lab is fully equipped to carry out pipeline failure investigations, instrumented burst tests, corrosion tests and standard mechanical properties tests.
Carolyn Kolovich, vice president, engineering at Kiefner and Associates commented: "The laboratory space connected to our office means our engineers are able to implement a smoother process and provide quicker turnaround for our clients."
The new office is also equipped with a training facility with the capacity to host up to 40 students at one time.
The company – which services the pipeline industry and power sector - offers specialized training for pipeline operators at its own site, client premises and remote locations across the United States throughout the year. Courses include Code for Liquid Pipelines, Code for Gas Pipelines, Welding, Pipeline Reliability and Corrosion Measurement Assessment.