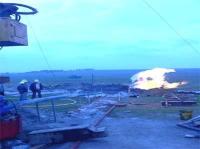 Kinetiko announce the sixth pilot production well has commenced drilling at its Amersfoort joint venture with Badimo Gas Ltd (Badimo) to test gassy sandstones and CBM horizons identified in the exploration core holes drilled to date.
Each well is anticipated to have a total depth of <450m to assess gas flow rates and ultimately well gas recovery within 4-6 weeks.
Due to the extensional geological structures in the region, the coals have relatively high permeability. Preliminary studies indicate that low volumes of produced water are expected from the production wells, given the geological and climatic characteristics of the region. Produced water has the potential with limited treatment to be used domestically.