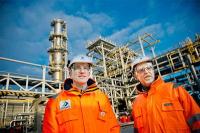 On behalf of Gassco as Operator, Statoil has awarded Wood Group the feed contract for Kollsnes Electrical and Instrument (KOL E&I) FEED, including options for execution of Kvitebjørn Gas Pipeline (KGP).
"The project is important to ensure the robustness of the Kollsnes processing plant in a long-term perspective. The contract has been awarded in a tough competition with other suppliers, and the contract is important especially during the future maturation of KOL E&I and the execution of the KGP project. The time estimate is approximately 80 man years for the contract period of 33 months", says Svein Birger Thaule, executive vice president for asset mangement at Gassco.
The work will start immediately, and the contract will expire in December 2017.
Facts KOL E&I; Mainly due to HSE and obsolescence of electrical and automation systems at Kollsnes, several minor E&I modifications at Kollsnes are a necessity. This modifications will secure regularity and safety level at Kollsnes facility.
Facts KGP; The Kvitebjørn gas pipeline capacity upgrade is to accommodate for increased production from Kvitebjørn Valemon and Visund and to increase regularity at Kollsnes.
The Kollsnes plant is owned by Gassled, Gassco is the Operator and Statoil is the Technical Service Provider.