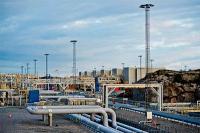 A fabrication contract for upgrading the Kollsnes gas processing facility has been awarded to Fabricom AS by Statoil Petroleum AS on behalf of operator Gassco.
The purpose of the work is to enhance the flexibility of the plant in response to changes in gas composition and increased capacity in the Kvitebjørn gas pipeline (KGP).
"We're very pleased to get Fabricom onto the team," says Svein Birger Thaule, executive vice president for asset management at Gassco. "We'll jointly contribute to safeguarding gas deliveries and maintaining the plant's integrity."
Work under the contract begins this month, and is due to be completed in December 2017.
Upgrading the KGP aims to make Kollsnes more flexible and able to accept accelerated and increased production from the Kvitebjørn and Visund fields, as well as other possible future volumes from the area.
The Kollsnes facility is owned by the Gassled partnership, with Gassco as the operator and Statoil as its technical service provider.