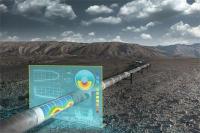 Kongsberg Oil & Gas Technologies AS, a wholly owned subsidiary of Kongsberg Gruppen ASA (KONGSBERG), has released version 1.7 of the LedaFlow® transient multiphase flow simulator. LedaFlow 1.7 introduces major functionality changes including non-Newtonian fluids, wax appearance temperature, 3D visualization, and flowline profile tools.
A number of important features have been added so users can perform a more complete analysis of the field to make better-informed decisions during design and operations. Among these is the ability for fluids to support Herschel-Bulkley rheology enabling non-Newtonian behaviour for simulations of operations such as well clean-up studies. Another functionality similar to hydrate formation margins is the wax appearance functionality allowing calculation of the temperature margin to wax formation.
Another improved feature released in LedaFlow 1.7 is 3D visualisation, which displays animated flow dynamics based on stratified/annular fluid levels in the pipe. In addition to the liquid level, output properties can also be visualised as a coloured band around the pipe. This makes analysing simulation results more intuitive.