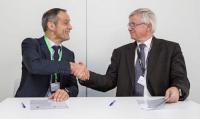 Kongsberg Maritime and Schneider Electric have signed a global partnership agreement to further the development and delivery of KONGSBERG K-Power switchboards and related systems for offshore and maritime markets.
The partnership with Schneider Electric strengthens Kongsberg Maritime's "Energy Solutions" strategy, which was established in 2015 to meet global demand for energy management applications with a technology edge, and supports the new portfolio of new "Integrated" vessel concepts launched at ONS 2016. The partnership is a strong platform for Kongsberg Maritime to capitalise on its global success in providing EIT Solutions for FPSOs and vessels over the last 6 years.
KONGSBERG has met recent demand for deliveries of products that include switchboards through its existing supplier relationship with the specialist in energy management, Schneider Electric. Through previous and on-going co-operation, Schneider Electric has already shown its ability to support the energy needs of KONGSBERG customers, making it a natural progression to extend the working relationship to include development.
The agreement covers further development of KONGSBERG K-Power products for low voltage and medium voltage range of switchboards. Through the partnership, Kongsberg Maritime shall use its own design for switchboards and Schneider Electric's components as part of the total energy solution.
"With our established position in the market combined with Schneider Electric's leading energy technology solutions we have created a stronger platform to support customers globally with innovative and sustainable energy solutions," says Stene Førsund, EVP Global Sales & Marketing, Kongsberg Maritime. "The partnership builds on our existing co-operation as we will work closely together to develop future technology relevant to Kongsberg Maritime customers' operational efficiency and environmental needs. Together we will have integrated life cycle management, solution specific joint development and close co-operation across diverse projects that will help to make a real difference for our customers."
Herve Lours, Vice President for Marine & Shore Connection, Schneider Electric says, "At Schneider Electric, innovation and strong partnerships are our DNA. We see a great potential in the deep partnership with Kongsberg Maritime. Both companies have a strong and complementary expertise in automation and a strong focus on developing new technologies to meet the demands of our customers in a world where connectivity, automation and software are the key to efficiency and sustainability."
Schneider Electric Norway CEO Dagfinn Ringås sees great potential in the global partnership, which is the latest result of a strategic focus on the offshore sector: "In a Norwegian perspective we are obviously proud to partner with a great company like KONGSBERG and we are very confident that our energy management solutions will strengthen its offer even further and bring innovative technology to our joint offshore and maritime customers worldwide. We have won several large contracts in the Norwegian offshore and maritime sector over the last 12-18 months, and partnering with KONGSBERG will definitely strengthen our presence even further."