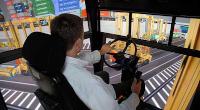 Kongsberg GlobalSim, the wholly owned land-segment crane simulation subsidiary of Kongsberg Maritime is to become an independent business following a management buyout announced on 21st March 2016. The buyout will enable GlobalSim to focus on its core port crane, construction crane, military crane, and other heavy equipment simulator development while KONGSBERG continues to develop its position as a leading maritime and offshore simulation provider.
Kongsberg Maritime acquired the Salt Lake City, Utah based GlobalSim in 2007 to complement its extensive offshore simulator portfolio, which today covers full vessel training with integrated navigation, DP, engine room and offshore vessel crane simulators, in addition to application specific simulators for i.e., seismic back deck handling and oil spill response. GlobalSim was renamed Kongsberg GlobalSim in 2013.
"As Kongsberg GlobalSim is today focused on land-based crane simulation, a management buyout was naturally interesting for all stakeholders," says Kongsberg Maritime Simulation Vice President, Paal Aamaas. "Our strategy is clearly targeted towards the maritime and offshore industries so it's important to concentrate our development and support activity on delivering innovations and efficiencies in these markets."
"The timing was right for both parties and the move represents a unique opportunity for GlobalSim and its employees. We will continue to cooperate with GlobalSim on various on-going projects," Aamaas continues.
The new GlobalSim, Inc. will be led by Jonathan McCurdy who joined the company in 2001 and previously held the position of General Manager. "We expect the transition to be seamless and business to continue as normal," says McCurdy. "We have always had a strong engineering team and the service and sales teams will be well positioned moving forward as an independent company."