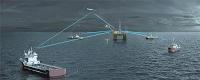 The Norwegian Coastal Administration (NCA), Norwegian Coast Guard and the Norwegian Clean Seas Association for Operating Companies (NOFO) took part in a comprehensive, full-scale trial of Kongsberg Maritime's unique 'MBR' (Maritime Broadband Radio) inter-vessel communication system in the North Sea this June.
During the North Sea exercise MBR was used as the communication platform for data exchange and co-ordination of simultaneous operations. Units were mounted on multiple operational assets, including a plane that streamed real-time surveillance video directly to the vessels, thus giving them a new perspective and a completely different situational understanding.
By installing MBR communication units on every vessel/asset involved in an operation, a broadband link is established and a maritime 'information highway' created – one that enables high-speed, high capacity, low latency transfer of data, without the need for additional infrastructure and no prospect of data 'disappearing' en-route. There are also no airtime charges; data transfer between vessels and assets is free once an MBR network has been established.