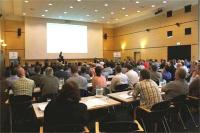 The Kongsberg Maritime Simulator User Conference (UC 2013), which took place in Svendborg, Denmark last week (24-26 September), brought together many of the leading organisations in maritime and offshore training. UC 2013 is an annual event, designed as a platform for the discussion and development of simulation technology within all areas of maritime training, with this year's conference leading on the theme: World Class Simulation – through people, technology and dedication.
UC 2013 was co-hosted by Maersk Training, Svendborg and SIMAC (Svendborg International Maritime Academy), with excursions to both facilities during the conference to give the 160 delegates from all over Europe an insight into the use of Kongsberg Maritime simulators at two internationally recognised training facilities. Emphasis at Kongsberg Maritime Simulator User Conferences is always on collaboration and sharing, so in addition to the tours, Kongsberg Maritime customers featured heavily in the conference sessions.
Session highlights included presentations on learning methods and simulation solutions for obtaining peak performance from students and crews. Maritime Education Trends by Stein Eriksen from the Norwegian Ship Owners Association looked at the approach to training his organisation takes for Offshore Service Vessels, Complex Integrated Marine Operations and operating in the High North. Demonstrating the diverse nature of the papers on offer, a presentation on Pedagogical Aspects of Simulator Training by Johan Magnusson looked at the deeper teacher and student aspects of the use of simulators in training.