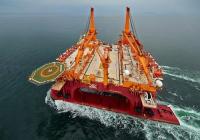 Kongsberg Maritime has been awarded significant offshore EPC contracts with China Merchants Heavy Industries (CMHI). The contracts, worth more than NOK 520 million, cover deliveries to two semi-submersible heavy lift and accommodation vessels; OOS Serooskerke and OOS Walcheren, to be built at CMHI (Jiangsu) in Haimen, China for Serooskerke Shipco BV/Walcheren Shipco BV in the Netherlands.
Kongsberg Maritime together with its wholly owned subsidiary Kongsberg Maritime Engineering (KME) will execute the project. KME will provide all engineering, procurement and project management while Kongsberg Maritime will supply a "full picture" system delivery. The vessels are based on a similar design to the OOS Greta (pictured) currently operating for Petrobras in Brazil. Due to the heavy lift capability, the vessels are well positioned to enter the de-commissioning market of offshore production platforms worldwide.
The contracts include supply and integration of the electrical, telecom and integrated control systems, project management, interface management and engineering services at all stages. In addition, a significant technology scope of supply includes; switchboards, frequency converters, automation, navigation & DP systems, radio and satellite communications, networking and on board entertainment, safety technology and monitoring systems such as the advanced environmental monitoring system. The engineering and construction phase is estimated to be three years for the first vessel and the delivery of the second vessel will be nine months later.
"We are very pleased that we can supply a tailor made EIT (Electrical, Instrument and Telecom) solution for the yard and owner with a large scope of both in-house and procured technology," says Egil Haugsdal, President, Kongsberg Maritime.
"The current market conditions are challenging, the competition is strong and we are very pleased to have secured these contracts. It is a clear demonstration of our capabilities in this field and the project will keep employees engaged both in Norway and China," says Haugsdal.