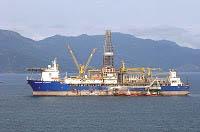 Kosmos Energy says that the Tortue-1 exploration well, drilled to test the Tortue West prospect, which forms part of the Greater Tortue Complex, in Block C-8 offshore Mauritania has made a significant, play-opening gas discovery.
Based on the preliminary analysis of drilling results and intermediate logging to a depth of 4,630 meters, Tortue-1 has intersected 107 meters (351 feet) of net hydrocarbon pay. A single gas pool was encountered in the primary Lower Cenomanian objective. The Lower Cenomanian is comprised of three excellent quality multi-Darcy reservoirs totaling 88 meters (288 feet) in thickness over a gross hydrocarbon bearing interval of 160 meters (528 feet). A fourth zone 19 meters (62 feet) thick was penetrated within the secondary Upper Cenomanian target over a gross hydrocarbon bearing interval of 150 meters (492 feet). real6
Andrew G. Inglis, chairman and chief executive officer, said: 'Volumetrically, the Tortue-1 well has far exceeded our pre-drill expectations and has discovered a large scale gas resource. Our seismic imaging indicates the areal extent of Tortue West could cover approximately 90 square kilometers that will be better defined with appraisal drilling.