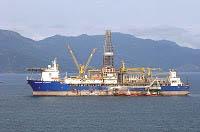 Europa Oil & Gas (Holdings) says that, subject to an application being made to the Irish Authorities and approval granted, it intends to assume 100% interest in, and operatorship of, licences FEL 2/13 and FEL 3/13 in the Porcupine Basin, offshore Ireland.
This follows Kosmos Energy Ireland's ('Kosmos') decision to exercise its option to withdraw from the Joint Operating Agreements for both licences. FEL 2/13 and FEL 3/13 have the potential to hold gross mean un-risked Prospective Resources of approximately 1.7 billion barrels of oil equivalent (boe), and given the record number of applications in Ireland's 2015 Atlantic Margin Round, the Board is confident there will be interest in partnering with Europa in both licences.
Ireland's 2015 Atlantic Margin Licensing Round closed on 16 September 2015. The Irish Authorities have reported they have received 43 applications from major, mid cap and small companies, the largest number of applications ever received in any Irish offshore licensing round. Europa has applied for multiple blocks in the 2015 Irish Atlantic Margin Licensing Round and has undertaken considerable proprietary technical work in relation to these licence applications.