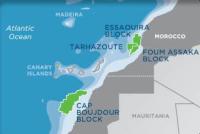 Fastnet notes that its partner in the Foum Assaka license, offshore Morocco, Kosmos Energy (Kosmos), provided a Technical Update on its exploration assets on 14 November 2013. In its presentation to analysts and investors, Kosmos covered the Foum Assaka permit, offshore Morocco ("Foum Assaka Block") following its farm-out agreement with BP plc.
Kosmos indicated that well planning is underway at the Eagle-1 Well in the Foum Assaka Block, which is estimated to contain 360 mmboe of Pmean resources. The well is scheduled for drilling in Q1 2014 and will target lower Cretaceous reservoirs and multiple deepwater reservoir objectives with a planned target depth of 4,500 metres in water depth of 600 metres.
Paul Griffiths, Managing Director of Fastnet said:"We are very pleased that the Operator's update for Foum Assaka states for the first time the potential resources target for the initial well in the 2014 Foum Assaka drilling campaign and further confirms the premium being paid by major oil companies to enter this exciting hydrocarbon play.