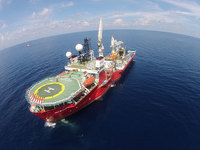 International subsea solutions company, Kreuz Subsea, has announced AJ Jain as chief executive officer and Balaji Bhashyam as chief operating officer.
Jain brings over 25 years of executive industry experience to the role having held a number of leadership positions in the oil and gas industry across the globe.
His previous posts include managing director at Harkand Group where he was responsible for operations in North America and Africa. Prior to Harkand, he was also part of the senior management team at Dynamic Industries International LLC responsible for international operations. He also held several senior executive assignments at Global Industries Ltd including chief operating officer and sr. vice president responsible for Asia Pacific and the Middle East earlier in his career. Global Industries was acquired by Technip in 2011.
Balaji has been with Kreuz Subsea for the last two years as vice president, business development & corporate strategy. He has more than 25 years' operational experience in subsea project management and engineering. He previously worked in senior operational roles for Technip in Asia Pacific, Global Industries Ltd. and McDermott International.
The board of directors announced the appointments following the departure of former chief executive Kurush Contractor from the integrated marine and subsea services business after nine years of service.
Kreuz Subsea director, Vincent Low, says, "After an extensive industry-wide search, AJ Jain was identified as the clear choice for the CEO role. He brings the ideal combination of drive, commitment and operational knowledge to take the business to the next level and deliver further positive results for the business."
"It's an exciting time for Kreuz with AJ at the helm and Balaji's internal promotion, which brings continuity, having developed an intimate knowledge of the company, our clients, and our people since he joined. We look forward to our new senior management team leading continued growth and development for Kreuz Subsea," Low adds.
Kreuz Subsea employs around 250 people onshore and offshore in Singapore, Brunei and India and has projects currently underway valued at USD 150 million.
The company has three multi-purpose support vessels (MSV) and expects delivery of its new Kreuz Challenger DP2 MSV in November. It also has an extensive fleet of diving systems and work-class ROVs.
As CEO, AJ Jain will be responsible for the strategic direction of the firm and growing the business in new markets. Jain comments, "I am honoured to have been appointed by the board and am fully committed to the company's vision and core values. Kreuz has built an excellent reputation in the market over the last nine years and is recognized as a company that delivers on its commitment."
"There are some exciting opportunities on the horizon including delivery of the new DP2 vessel, Kreuz Challenger, which will add exceptional quality to our specialized fleet. I look forward to working with newly promoted chief operating officer, Balaji Bhashyam, and the other talented personnel at Kreuz to drive further strategic growth for the business and adding to our existing client portfolio," adds Jain.