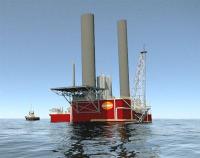 KrisEnergy Ltd. provided an update on the Rossukon-3ST sidetrack exploration well in G6/48 in the Gulf of Thailand, which was drilled by the jackup Key Gibraltar (300' ILC) and is the last of four wells in the 2015 drilling campaign in the contract area. Rossukon-3ST, drilled from the same surface location as the Rossukon-3 exploration well, reached a total depth of 6,645 feet (2,025 meters) measured depth, or minus 4,500 feet true vertical depth subsea.
KrisEnergy's preliminary interpretation of well logs indicates that the well intersected approximately 85 feet true vertical depth (TVD) of net oil-bearing sandstones and 63 feet TVD of net gas-bearing sandstones over several reservoir intervals. Water depth at the Rossukon-3 location is 208 feet.
The Rossukon-3 location is 1.2 miles (1.9 kilometers) west of the Rossukon-2 surface location and 1. miles (1.8 kilometers) northwest of the original Rossukon-1 discovery well, drilled in 2009.