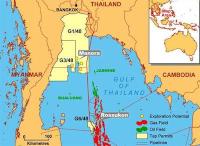 KrisEnergy Ltd. has chartered the Rubicon Vantage FSO vessel and a catenary anchor leg mooring (CALM) buoy for utilisation on the Wassana oil development in the G10/48 licence area in the Gulf of Thailand. The Wassana field is anticipated to commence production in the second half of 2015.
The Rubicon Vantage is a double-hull FSO facility owned by Rubicon Vantage International Pte Ltd and has been operating in the Gulf of Thailand since 2008. The vessel is 228.6 metres in overall length and has a storage capacity of 597,206 barrels. It can accommodate up to 40 persons.
The CALM buoy is supplied by Equatoriale Services Pte Ltd. Its hull is moored to the seabed using six mooring chain legs guided through rotating chain stoppers and connected to high capacity power anchors. A turntable is located on top of the hull to accommodate FSO mooring hawsers and floating hoses.