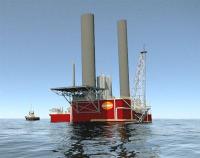 KrisEnergy Ltd. provided an update on the drilling of the Rossukon-2 exploration well in G6/48 in the Gulf of Thailand, where the Rossukon oil accumulation was discovered in 2009. Rossukon-2, which is located at a water depth of 210 feet, was drilled to a total depth of 5,460 feet (1,664 meters) measured depth (minus 4,924 feet true vertical depth subsea).
Preliminary well logs indicate that the well intersected approximately 69 feet true vertical depth (TVD) of net oil-bearing sandstones and 37 feet TVD of net gas-bearing sandstones, over five reservoir intervals. The logging program is expected to be completed by March 25 at which point Rossukon-2 will be plugged back and the Rossukon-2ST directional sidetrack well will commence drilling out approximately 0.8 mile (1.3 kilometers) to the northwest.
Chris Gibson-Robinson, director Exploration & Production, commented: "The results from Rossukon-2 provide an encouraging basis to drill a sidetrack well to further define the lateral extent of the hydrocarbon columns and explore for new zones. These wells, together with the original 2009 discovery well, will bring us a step closer to deciding commerciality of the accumulation and the potential development concept".