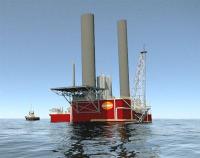 KrisEnergy Ltd. says that the jackup Key Gibraltar (300' ILC) has commenced drilling of the Rossukon-3 exploration well in G6/48 in the Gulf of Thailand.
Rossukon-3 is the third exploration well to be drilled in the G6/48 contract area in 2015 following the evaluation of Rossukon-2 and Rossukon-2ST, which were drilled in March. Rossukon-3 lies 1.2 miles (1.9 kilometers) west of the Rossukon-2 surface location and 1.1 miles (1.8 kilometers) northwest of the original Rossukon-1 discovery well, drilled in 2009.
The well is planned to reach total depth at 7,468 feet (2,276 meters) measured depth (minus 6,235 feet true vertical depth subsea) and will test Early Miocene fluvial sandstones on a broad structural high. Water depth at the Rossukon-3 well location is 208 feet.
G6/48 covers 218.5 square miles (566 square kilometers) over the Karawake Basin and lies to the north of the G10/48 license, where KrisEnergy is developing the Wassana oil field. KrisEnergy took over operatorship of G6/48 in May 2014. The Company holds a 30 percent working interest in the concession and is partnered by Northern Gulf Petroleum Pte Ltd. with 40 percent and Mubadala Petroleum with 30 percent.