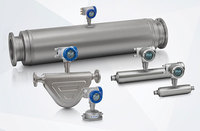 The MFC 400 signal converter is now available with PROFINET I/O option. Now, all OPTIMASS x400 Coriolis mass flowmeters (compact and field versions) can be equipped with Industrial Ethernet communication, complementing the existing HART 7, FOUNDATION Fieldbus, PROFIBUS PA and DP as well as Modbus communication options.
With PROFINET I/O, all measuring, process and diagnostic information from the meters is available real-time via a single communication channel, allowing for convenient integration of new meters: the MFC 400 supports network functions such as Auto-Negotiation, Auto Crossover, Auto Polarity and Network diagnostics, and is is automatically added to the communication path topology when connected to the network. It also supports Media Redundancy Protocol: in the event of a line or device failure the MFC 400 instantly switches to an alternative communication path when installed in supporting topologies. A web server is not required, standard functions such as zero flow calibration or counter reset can be performed directly.
One or two M12 (D coded) connectors allow installation in all topologies with data transfer speeds of up to 100 MBps. An additional external switch is not required as it features an integrated managed Ethernet switch, providing additional functionality including diagnostics: conforming to the NAMUR standard NE 107 for status and error handling, the MFC 400 provides extensive self-checking of internal circuits and information regarding the health of the measuring sensor as well as information about current process conditions, e.g. indication of 2-phase flows, density or temperature.