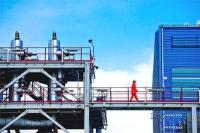 A contract covering engineering services as well as the production and installation of equipment has been awarded to technology specialist Mjørud AS.
Placed by Statoil on behalf of operator Gassco, this assignment concerns upgrading systems related to compressors and steam boilers at the Kårstø process plant north of Stavanger.
The contract involves the Åsgard compressor and associated steam boilers at the facility. Work will start immediately and is due to be completed during 2018.
"Continuous maintenance is crucial for ensuring reliable gas deliveries to Europe," says Alvin Hansen, vice president for process plants at Gassco.
"Upgrading these compressor and boiler systems will strengthen the technical integrity of the process plant and extend its commercial life."
The Kårstø facility is owned by the Gassled partnership, with Gassco as the operator and Statoil as its technical service provider.