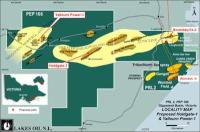 Lakes Oil N.L. has submitted an application to drill a new well, Wombat 5, in the New Year.
This well will be drilled conventionally and will not involve hydraulic fracturing. The Chairman of LKO, Mr Robert Annells, said today that Wombat 5, to be drilled in the Gippsland Basin, was inspired after his geology team carefully studied conventional discoveries both in Australia and overseas in recent times.
'We believe our company can achieve commercial gas production using traditional methods to recover gas from the 'weathered' zone at the top of the Strzelecki Formation, proved to be present over a wide area in Gippsland,' he said.
'In particular we took a close look at the conventionally drilled and successful 'Longtom' gas field offshore in Bass Strait.
'We know how 'Longtom' worked; it was a commercial winner offshore and we believe that we have similar circumstances onshore.
'If successful, Wombat 5 will not only commercialise the entire Wombat structure, but potentially the Macalister, Trifon and Gangell fields as well.