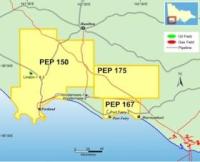 Lakes Oil N.L has entered into an agreement with Bass Strait Oil Company to acquire 100% equity in PEP 167 and PEP 175.
The required transfers have been lodged and the acquisition is subject only to approval by the regulatory authorities.
Since Lakes participated in the 2012 drilling of Moreys in PEP 169, we have become focused on the onshore Otway Basin potential.
With new technology, we believe commercial recovery can be obtained from targets which in the past were considered uneconomic.