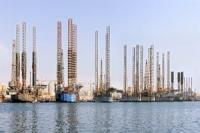 Lamprell has successfully completed construction of the second Caspian Sea jackup drilling rig, the "Mercury".
Completion of this rig is another significant milestone for the Group, particularly as it has been built under challenging conditions but with an excellent safety record and several weeks ahead of schedule. In light of this and further to the Company's announcement on 28 August 2014, timely completion enables the Company to release contingencies held in connection with this project which will have a significant positive impact on the 2014 financial results.
The "Mercury" is the second vessel that Lamprell has built for this client. Delivery of this rig will take place in the coming month and the rig is then expected to commence operations on its first contract elsewhere in the Caspian Sea alongside its sister vessel, the "Neptune" rig, which was delivered in November 2013. A number of key operational improvements, learnt from this first rig project, were successfully implemented onto the "Mercury" project allowing Lamprell to complete as planned.