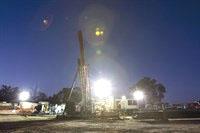 Landbridge Group Co., Ltd (Landbridge), a company based in Shandong Province, China, has conditionally intends to make an unsolicited off market takeover bid for all of the shares in WestSide Corporation Limited for cash consideration of $0.36 per share (Intended Bid).
The Board of WestSide is currently reviewing the terms of the Intended Bid, and the conditions to a bid being made. However, as there is no guarantee that any formal offer will eventuate, shareholders are advised to take no action at this time.
The Intended Bid is highly conditional and subject to, amongst other things, the approval of various third parties (including Chinese and Australian government regulatory approvals) and Landbridge undertaking due diligence.