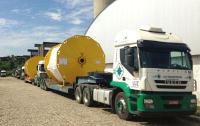 Lankhorst Euronete Brazil (LEB) has completed delivery of polyester mooring lines and thimbles for the FPSO Cidade de Itaguai MV26 in the Santos Basin of offshore Brazil, under a contract with leading mooring solutions provider SOFEC Inc.
In total, LEB has supplied 75,000 meters of Ultra Deep Water Cabral 512® rope, with a minimum breaking load of 1,197 tonnes, to permanently moor the FPSO Cidade de Itaguaí in a water depth of approximately 2,240m. The deepwater Cabral 512® mooring rope was developed to minimise the torsion of yarns while increasing the Minimal Breaking Strength (MBS) as much as possible.
The spread mooring system comprises 24 legs, arranged in 4 groups of 6 legs at each corner of the FPSO. Each mooring line contains three 959 m polyester Cabral 512® ropes segments and steel roulette thimbles. Additionally LEB has also supplied three polyester rope segments and thimbles for one spare line.