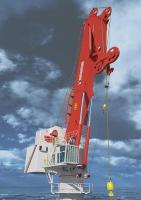 LankoDeep fibre rope from rope maker Lankhorst Ropes has been selected for the MacGregor FibreTrac crane, one of the most advanced fibre-rope cranes on the market. Based on Dyneema DM20 XBO synthetic filament, LankoDeep is optimised for cyclic bending, with a proprietary rope coating technology and DNV 303 certification, for deepwater deployments.
The MacGregor FibreTrac crane will have a 150-tonne safe working load capacity. It has been designed and will be built to comply with the latest DNV GL lifting appliance, fibre and rope manufacturing rules. MacGregor intends to provide the first system fully certified in compliance with DNVGL-ST-E407 (deployment and recovery system).
Lankhorst's LankoDeep fibre rope will be used on a Parkburn Deep Water Capstan with storage winch capable of accommodating 4,000 m of 88 mm rope. The rope comprises 12 stranded braids where each strand is a three-strand rope. This construction, combined with the DM20's XBO coating, helps reduce the tension required to bed-in the rope, as well as reducing internal heating and abrasion. In addition, the LankoDeep can be inspected and is also repairable. The rope will be connected directly to the crane hook using a socketed termination from Applied Fiber.
"LankoDeep has been designed from the outset for deepwater lowering and recovery projects," says Sergio Leite, sales director, Lankhorst Ropes Offshore. "LankoDeep offers significant operational and environmental benefits compared with steel wire ropes. Operationally the ropes are easier to handle, and allow engineers to lift and deploy the maximum load without the need to factor in the self-weight of steel wire."
The FibreTrac crane will also feature an advanced rope monitoring and management system that maximises rope lifespan and provides clear lift line status information for the operator at all times. It will be controlled using MacGregor's latest control system with the added advantage of providing real-time data feedback to onshore locations using the MacGregor "OnWatch" feature.
The MacGregor fibre rope solution can also be retrofitted on existing cranes as well as stand-alone winch systems, and is available with both hydraulic and electric drive options.