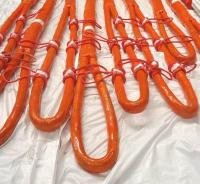 Lankhorst Ropes has appointed lifting company W. Giertsen Services AS as sales agent in Norway. Under the agreement, Giertsen Services will offer Lankhorst synthetic fibre tethers for mooring flexible risers, umbilicals, cables and mid water arches (MWA) systems.
W. Giertsen Services is a leading provider of lifting equipment to the Norwegian continental shelf. It offers a complete lifting systems service, including lifting equipment, consultancy, specifications, engineering, fabrication, construction and technical services according to customer demand. In addition to standard lifting products, the company also offers custom handling systems.
Lankhorst tethers are made from high modulus polyethylene (HMPE) rope using a Gama98® or Lanko®Force construction to provide the strength and mechanical performance expected of these long-term tethers. Each tether is customised for the subsea application and includes a protective jacket and polyurethane coating, together with ROV handling points for ease of installation and maximum service life.