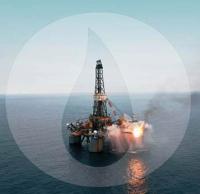 Lansdowne Oil & Gas, says that drilling has reached target depth at the Midleton exploration well in the Celtic Sea (Lansdowne 20%) and the logging programme has been completed.
Designated 49/11-3, the well spudded on 29 July 2015 and reached total vertical depth of 3,480 feet below the rotary table (3,393 feet TVDSS below sea level). Good quality reservoirs were encountered in the Greensand and Upper Wealden formations of the Lower Cretaceous. Some gas was present in the Greensand but the volumes are not considered commercial and the Upper Wealden was water wet. The well will be plugged and abandoned.
The Midleton well was operated by PSE Kinsale Energy (80%) using Diamond Offshore Drilling's Ocean Guardian drilling rig.