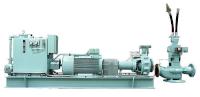 Following a period with less order intake and low oil prices, Ellehammer is now gaining momentum in the market and wins a contract for two electrically powered fire pumps.
The customer, a major Korean shipbuilder, is a loyal partner who previously bought several of Ellehammer's approximately 500 installed sets of fire pumps.
"Ellehammer A/S was founded more than 100 years ago and we have manufactured the electrically powered fire pumps for decades. We are pleased to see the positive developments in the market and an optimistic order pipeline hints that there is more to come" says Ellehammer CEO Torben Bang Kristensen.
Ellehammer fire pump specifications range from 30–3000 m3/h at a pressure on up to 150 mWC and are designed according to the requirements of the vessel in question and are customised to meet the system specifications. The pumps comply with NFPA20 and class regulations.
The order will be delivered from the Ellehammer headquarters near Copenhagen ultimo 2017.