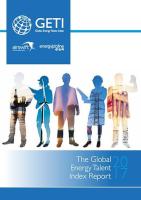 The first Global Energy Talent Index (GETI), the world's largest energy recruitment and employment trends report, has been released, revealing a significant difference in expectations between hiring managers and candidates.
The report by Airswift, the global workforce solutions provider for the energy, process and infrastructure sectors, and Energy Jobline, jobsite for the energy and engineering industries, indicates that energy candidates are more optimistic than hiring managers, with more than half of the workforce predicting an increase in salaries over the next 18 months – compared to just 23% of those hiring.
Janette Marx, Chief Operating Officer at Airswift, says, "It's absolutely essential that hiring managers and employees are on the same page if the energy industry is to continue attracting and retaining the talent it needs for a successful future. But at the moment there's a bit of a mismatch – and not just about the prospect of a pay rise. For instance, a quarter of hiring managers across the sector think that the corporate brand is the most important factor in attracting jobseekers, when in fact the workforce values salary, location and professional development most highly.
"That's why we've developed GETI. By creating the biggest and most comprehensive survey of energy candidates and hiring managers, we're helping our clients keep abreast of what really matters to the workforce and making sure jobseekers know what to expect when looking for a new role. This is all part of our wider mission to preserve the pipeline of budding innovators and seasoned operators on which the industry depends."
GETI provides a much-needed health check of the industry's talent pool at a time when all sub-sectors, from oil and gas to renewables, are undergoing rapid change. It examines in detail the relationship between employers and the workforce, gauges their differing levels of confidence and highlights what matters most to each group. And in doing so, provides a blueprint around which to build the industry of the future.
The report takes a detailed look at the talent situation within the energy industry, including information on hiring rates over the past year and into the next 18 months, global mobility and predicted regional "hot spots" for the energy sectors and the flow of talent between sectors.
It includes specific insights into the state of talent within the oil and gas, renewables, power, nuclear and petrochemicals sectors. Key findings within oil and gas include:
Three-quarters of hiring managers think the oil and gas sector faces a talent shortage
Graduates are shying away from the oil and gas industry due to perceptions about an ageing workforce and environmental concerns when compared to newer technologically-driven green sectors
Almost half of oil and gas professionals expect the sector to recover in the next 12 months. But nearly two-thirds of hiring managers expect it to take more than a year
Hannah Peet, Managing Director at Energy Jobline, says, "The oil and gas sector has endured one of its most prolonged and devastating downturns to date. In the UK alone, more than 150,000 people lost their jobs. But the industry is incredibly resilient and the sharing of new ideas is helping to get it back on its feet.
"When the dust settles, hiring managers will need to be smart in thinking about how they attract new talent. Gone are the days of expensive bidding wars, offering candidates ever-increasing salaries. GETI will help them to find a way forward – and fill the talent gap by ensuring they know what potential future employees want."
Airswift and Energy Jobline surveyed more than 16,000 energy professionals and hiring managers in 156 countries across five industry sub-sectors: oil and gas, renewables, power, nuclear and petrochemicals. The report is available to download at http://www.getireport.com/download-report.