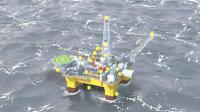 A unique interactive 3D graphic has been developed by Latchways to illustrate the scope of its specialist Oil & Gas fall protection products. Multiple hotspots have been identified on an image of an oil rig, which when a mouse is rolled over, reveal the specialist fall protection solutions available. The clever highlighting also provides a short description of how each solution works and its exceptional benefits.
These hotspots range from accessing the mast crane with a ManSafe® Horizontal Lifeline system, to working on the platform and effecting boat transfers with the ManSafe® Sealed Self-Retracting Lifeline (SRL), specifically designed to cope with wave swell to avoid inadvertent locking of the device.
Few environments offer as many extreme challenges to the fall protection industry as those found in the Oil & Gas industry. From the grime and dirt of oil which can cause running mechanisms to malfunction, to gale force winds and rough seas which place exceptional demands on lines and systems; offshore workers inhabit a truly hostile world.