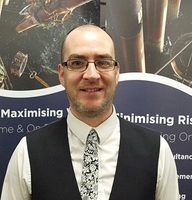 A north-east UK firm that is helping extend the life of offshore fields in the North Sea will share its experience of utilising new technology as part of a major industry conference in Aberdeen.
Chris Tierney, founder and managing director of SETS, will take centre stage at Subsea Expo for an individual presentation and wider panel discussion around the importance of inspection and integrity.
Based at Waterloo Quay, Aberdeen, SETS is a provider of technical innovation, engineering and tooling services to deliver efficient conductor management and repair solutions.
Over the past three years, SETS has successfully merged rope access techniques and remote subsea tooling in a unique combination to clean, inspect, deploy and install subsea repairs on conductors in response to the challenges faced by ageing oil and gas infrastructure.
This innovative solution for subsea repairs has resulted in average cost savings of between 50 and 60% for clients, including North Sea operators.
Chris Tierney worked in the subsea sector for more than a decade before launching SETS in 2011. He comments, "While the industry continues to face challenges, this year's Subsea Expo has the potential to mark the beginning of an exciting new chapter with a large number of forward-thinking companies showcasing the latest technology."
"It is hoped that these new developments can help overcome long-standing industry challenges, such as promoting late life of field management, improving asset integrity and making the industry fit for the future," Tierney adds.
Subsea Expo, which takes place at the Aberdeen Exhibition and Conference Centre (AECC) on February 7-9, is the largest event of its kind in the world – with over 5,000 delegates and around 150 exhibitors.