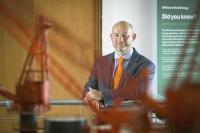 Conventional perforated wells still represent the majority of reservoir completions. Optimising the perforating by applying both relevant technology and modelling can provide significant gains for oil well production. Mark S. Brinsden, Shell principal technical expert is presenting at next week's Society of Petroleum Engineers (SPE) technical meeting.
As Senior Production Technologist, principal technical expert and team lead for perforating for Shell's global business, Mark S. Brinsden has more than 30 years' experience covering many of the operating areas across the world. He travels widely throughout Shell's global assets to provide advanced training and expert advice in perforating optimisation.
Mark is chair of API RP 19B Perforating Committee and co-founder of the International Perforating Forum and International Perforating Symposium Series, as well as www.perforators.org, an industry group dedicated to the advancement of perforating technology. He is also a journal technical editor, chair of the SPE Aberdeen Continuing Education Committee, a member of the SPE Energy Information Committee and has presented numerous papers at conferences.