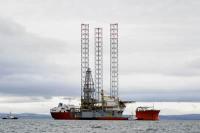 The world's newest jack-up drilling rig, PROSPECTOR 1, arrived in the Cromarty Firth on 26 November 2013, after a two-month journey from its construction shipyard in Dalian, China.
Owned by Prospector Offshore Drilling, the jack-up rig features one of the most advanced, fully-automated drilling systems in the world and represents an investment of over US $200 million. At 231 feet by 250 feet the rig's platform is the size of four Olympic swimming pools. Fully jacked-up its height is almost 775 ft.
It is the first of six rigs Prospector Offshore Drilling has ordered, with an estimated total project cost of approximately £750 million.
PROSPECTOR 1 and PROSPECTOR 5, which is due to arrive in the North Sea next summer, have both been built in China. PROSPECTOR 1 was built by Dalian Shipbuilding Industry Offshore Co., while PROSPECTOR 5 is being built by Shanghai Waigaoqiao Shipbuilding Co., Ltd.