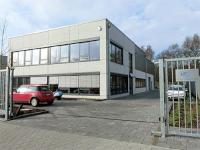 LDT Dosiertechnik GmbH celebrates its 25th anniversary this year of supplying liquid dosing pumps to the industry at large. In order to meet the needs of the challenging environment, and to better serve customers while generating business growth, LDT Dosiertechnik GmbH has moved to a new location in Germany. The new facility boasts of a larger workshop area and extended storage capacity.
With a wide product range of metering pumps from leading international pump manufacturers such as Dosatron, Iwaki, DOSEURO and Etatron, LDT Dosiertechnik GmbH offers standard and customised solutions for a variety of metering applications, all supported by a wide range of accessories.
Enjoying close proximity to Hamburg Airport and to logistics partners, this new facility will aid LDT Dosiertechnik GmbH to further increase accessibility and shorten delivery times, for current and future customers.