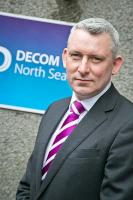 Decom North Sea, the membership organisation for the oil and gas decommissioning sector, has announced it will host a networking business breakfast during the Offshore Technology Conference (OTC) next month.
Hosted with event partner, the Department of International Trade, the event will feature insight from Bart Joppe, Baker Hughes' Director of Integrated Well Abandonment, who will compare market overviews, regulations and guidelines between the North Sea and Gulf of Mexico.
The event is key to Decom North Sea's commitment to engaging with the global market, to ensure its members can support decommissioning activity and export expertise internationally.
Roger Esson, Chief Executive of Decom North Sea and event host says, "Decom North Sea's priority is always to maximise the opportunities for lessons learned. In comparison to the North Sea, the Gulf of Mexico's decommissioning sector is far more established. To optimise our own efficiencies, we must explore the technical, regulatory and commercial models already in use elsewhere."
"Our OTC networking breakfast is designed to facilitate exactly that. By discussing how other markets have prepared for and implemented late life and decommissioning projects, we will also understand the methods with which the documented cost reductions have been achieved; this is valuable information for our members," adds Esson.
This free event takes place from 7 - 9am at Hilton Houston Post Oak on Tuesday 2 May 2017. Booking: www.decomnorthsea.com