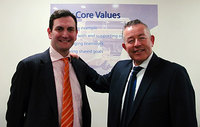 LEEA (Lifting Equipment Engineers Association), the global representative body for the lifting equipment industry, has announced the appointment of Paul Fulcher as the new LEEA Chairperson and to welcome Dr Ross Moloney as Chief Executive Officer of the Association.
Paul Fulcher, MD of Rigging Services takes up the appointment of Chairperson from Oliver Auston after his 2 year tenure. Paul has been an active member of the board for 20 years and previously held the position of Chairperson from 2001 to 2003.
Paul Fulcher says, "I am excited to be back in the role as Chairman of the Association especially during this time of change and global re-organisation of LEEA's member services which will be the focus for 2018. I am particularly pleased to be working alongside a talented, united and strong Board of Directors, also to be working with Ross in his new role as CEO of LEEA. Ross brings a wealth of experience in skills development, senior leadership and employer representation."
"The Board has been hugely impressed by Ross' strategic approach and commitment to supporting our members. We look forward to working with him in championing the role of LEEA over the coming years," Fulcher adds.
Dr Moloney says, "I am honoured to be leading LEEA into its next phase of growth and excited to be working with the Board and the Association's dedicated staff. I look forward to meeting our valued members over the coming weeks and months."
LEEA has also announced the appointment of board member Kat Moss, from Catena Inspection as Chairperson of the Association's Learning and Development Committee. Moss has been a Board member for 2 years and will add invaluable experience and guidance to the on-going L&D strategy delivered to LEEA members.