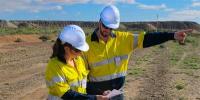 Leigh Creek Energy Limited (LCK) has located and has in its possession significant volumes of historic drill data in addition to that previously acquired. This additional data includes coal quality, geophysical and coal sample data, and coal retention samples.
This data brings forward gasification testing of coal samples (which have been appropriately stored) and likely permits an initial coal resource estimate to be performed ahead of the planned drilling program.
The intended drill program will be optimised following assessment of the new data.
Detail of Data and its Assessment
The data acquired pertains to drilling and associated geological investigations by ETSA (the Electricity Trust of South Australia) in the 1970's. ETSA was owned by the South Australian government at this time, with ETSA owning and operating the Leigh Creek Coal Field and the associated and captive coal fired power stations at Port Augusta 255 km to the South.