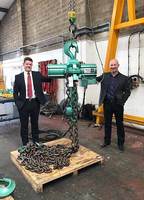 Lifting Gear Hire (LGH) has acquired the Aberdeen, Scotland-based hire division of JD Neuhaus (JDN) Ltd., a manufacturer of hoists and crane systems for extreme environments.
JDN, headquartered in Germany, will retain its other UK divisions, including sales and repair, and will remain an LGH supplier. The value of the transaction was not disclosed.
The landmark acquisition, which comes less than a year after LGH re-launched in the UK after a 10-year sabbatical, further enhances the company's already substantial fleet of JDN products, principally air operated hoists. LGH will now be able to offer air hoists up to 100-tonne capacity plus accessories.
The Dyce facility will become LGH's third UK site, alongside Atherton, Manchester; and Rainham, London. In addition to infrastructure, the purchase includes four JDN employees who will be supported by existing LGH personnel and trained on the company's software and processes. In the short term, no additional recruitments are planned.
Colin Naylor, managing director of LGH, says, "This acquisition will strengthen and deepen our product portfolio, especially in the hoisting category. Our relationship with JDN as a supply partner spans over three decades and their equipment and service has always been excellent. This acquisition is in line with our growth strategy and we welcome our new and transferring employees in Aberdeen. We also look forward to extending a warm welcome to customers old and new whom we hope will embrace a wider range of high quality, complementary equipment in due course."
Naylor says that the acquisition, effective 19 September 2017, presented a two-fold opportunity to, firstly, meet with the company's objectives to have a presence in Scotland; and, secondly, to immediately expand the product portfolio available to existing and prospective customers. While the top end of the air hoist capacity range doubles to 100 tonnes, this acquisition sees a huge increase in the volume of units now held by LGH, from 1 tonnes to 60 tonnes, ensuring LGH assumes a position as the largest provider of air operated hoists in Europe if not the World. A wide variety of motors and air trolleys will also be available across the full range of capacities.
He adds, "JDN's mantra, 'engineered for extremes', goes some way to describing the demanding industries that consume these air hoists. There is a natural appeal in adding to our specialist equipment range and representing a product that is renowned for its reliability and durability in such applications."
Ian Parkinson, group chairman, adds, "JDN's relationship with LGH goes back decades, and that has helped us quickly conclude a deal which benefits both parties. For LGH it's a strong indicator to the market that we will continue to invest in our rental fleet, to cement our position as the leading provider of rental lifting equipment in the western hemisphere. We welcome Aberdeen as LGH's 3rd location in the UK, ninth in Europe, and the 30th world-wide. We look forward to continue working with JDN and other high-quality brands."