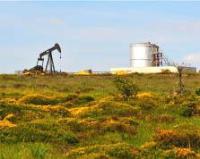 LGO says that production testing is now underway on wells GY-676 and GY-677, the second and third wells drilled on Pad-5 in the Goudron Field in Trinidad.
After initial clean up, well GY-677 delivered a maximum natural flow rate of approximately 380 barrels oil per day ('bopd') through a 5/32-inch choke. Well GY-676 has flowed at rates up to 240 bopd through a 9/32-inch choke and is now undergoing further tests through a gas separator in order to better manage gas being produced with the oil.
Well GY-675, which was placed on production last week, flowed at a rate of 240 bopd through a 5/32-inch choke during the main test period. An absolute open-hole flow rate of 850 bopd has been calculated from the production tests and a 5/32-inch choke selected for initial production.
The oil gravity from the three Pad-5 wells is excellent ranging between 34 and 44 degree API. All three wells have been completed in the C-sand reservoir.